Marble Hill Residential Neighborhood Location/Boundary: Broadway, 228th Street, Teunissen Place, Terrace View Avenue, 225th Street.
The residential neighborhood of Marble Hill was developed, starting in the 1890s, concurrently with the digging of the Harlem River Ship Canal. The buildings erected at this time were single- and two-family detached homes situated in a suburban-like development at the tip of Manhattan. This setting was enhanced by a street pattern curving around the natural terrain of the hillside along with corresponding curvilinear bluestone sidewalks. The homes of this first wave of development are of wood-frame construction built in simple Victorian styles with elements including porches, projecting bays, towers, and gables, further characterizing this neighborhood as non-urban in form, materials, and construction method. Typical materials such as wood shingle siding and rockfaced concrete block decorate the exteriors. The buildings are sited in a picturesque fashion along a central promontory ring around the hill. Subsequent housing development in the form of speculative apartment buildings built in the 1920s and 1930s reflect the northward-growing city and the attractiveness of Marble Hill. Apartment buildings of varying scales provided the neighborhood with more housing for a larger population and include three-story detached, four-story semi-detached, and six-story apartment buildings in a range of styles from modest Colonial Revival in red brick with simple limestone details to beautiful Art Deco with corner steel casement windows and decorative colored brickwork in geometric patterns.
Today, there are 75 Victorian wood-framed houses left in Marble Hill. This is the only Manhattan neighborhood where this type of architecture exists. Although most have undergone alterations, the basic building forms and the original scale remain intact. In many cases, original materials remain as well. These free-standing homes lie next to apartment buildings of differing materials and scale from the later period of development. The building forms and styles of the neighborhood interact with each other along with the natural topography of the hill and mesh together in a form that gives a particular and remarkably strong sense of place, unique to both the study area and Manhattan. Because of this, this area is significant culturally, aesthetically and historically.
The Richard Alexander House
Location: 61-63 Marble Hill Avenue / 54 Fort Charles Place
Date: 1894
Architect: Unknown
Recommended Acknowledgement: Individual Designation (New York City and National Register)

The Richard Alexander House is an outstanding example of Marble Hill's eclectic collection of historic detached houses.  It was built in 1894 by Richard Alexander as Marble Hill flourished in its first wave of residential development.  Mr. Alexander was a broker who played a key role in the early real estate dealings of Inwood and Marble Hill, and his office was located in the house.  The house was intended to befit his status as a prominent member of the fledgling community and project an image of a comfortable rural house.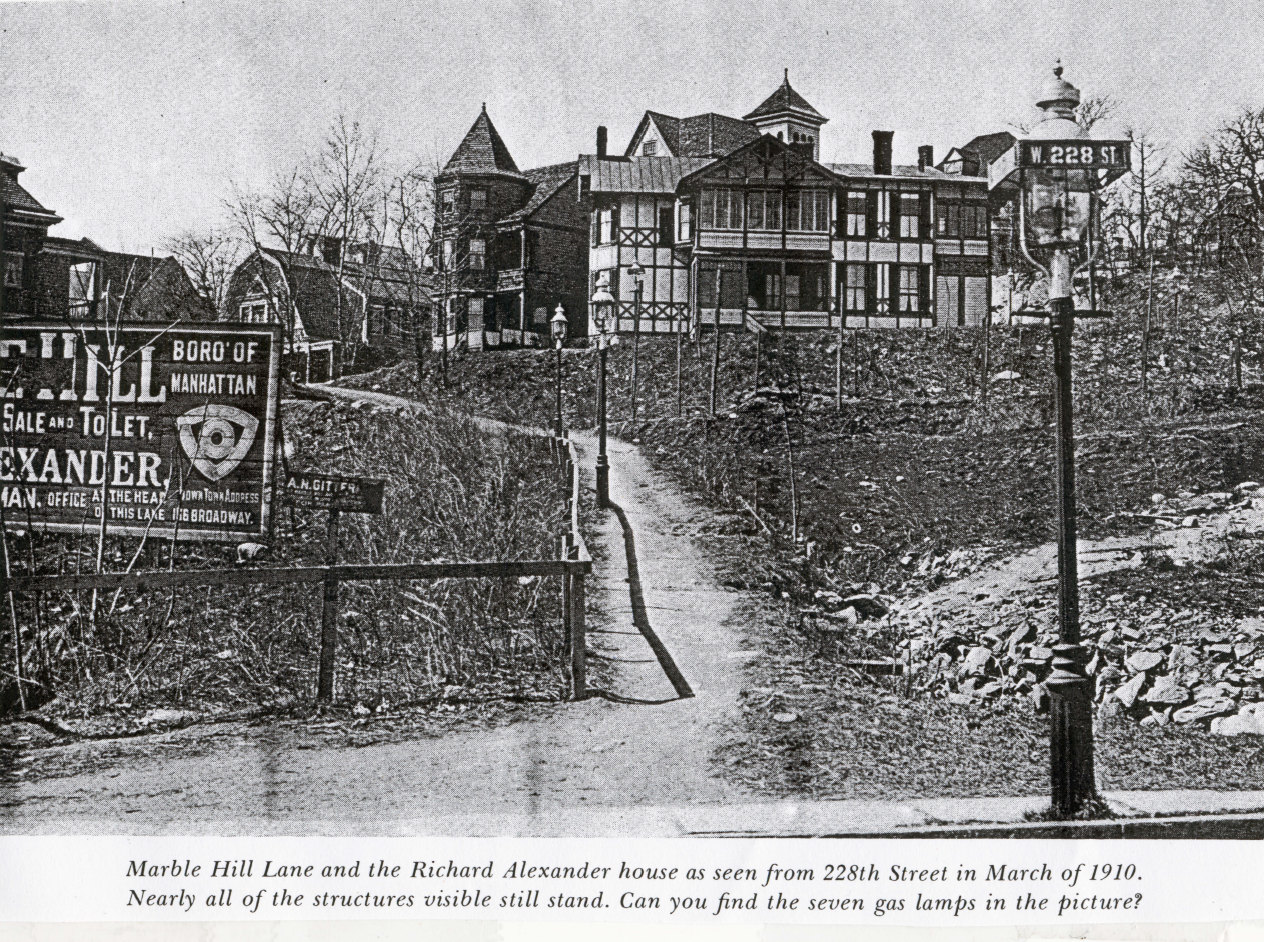 The building is designed as a simplified chalet-type, vernacular house.  It has a wood frame on top of an Inwood marble foundation, and features decorative half-timbering and stucco cladding.  The building's expansive stance, broad roof, deep eaves, and vertical assertion give it an exaggerated scale.  Its striking Tudoresque appearance and prominent situation on a large corner lot overlooking the hill commands great attention.  Perhaps due to these attributes, the house is featured in several historic photographs of Marble Hill. 
The Richard Alexander House's picturesque quality is emphasized by its unique relationship to the curvilinear street pattern of Marble Hill.  One's perception and view of the building takes advantage of the neighborhood's dramatic topography.  The house is located at the narrow juncture of Marble Hill Avenue and Fort Charles Place, which affords an unobstructed view of virtually all four sides of the structure.  Although Marble Hill has seen much development since the house was constructed, its location has helped to preserve the building's intended and historic expression.
The Richard Alexander House is a remarkable example of the fanciful vernacular expression so prevalent in Marble Hill's early development.  The building's contribution to the built fabric, spirit, and identity of the neighborhood is invaluable.